The Marando's staff always referred to customers as our patrons. Jimmie believed patronage was a privilege bestowed upon the restaurant as a reward for good service and a total quality dining experience.
The following is a list of those who dined at Marando's. The list was comprised by Mike Marando during his research for this website – and is far from complete, so it is a "work in progress."  Dined at Marando's and have a short story to share? Perhaps you went there for a pre-Prom Night dinner, or your parents took you there for a birthday celebration! Regardless, we'd like to hear from you! On the bottom of the page  is a box – fill it out and send to us and we'll include your name and remembrance in future updates.
Customer Testimonial
Local Civic Organizations
Paul Taylor - Co-Chair/March of Dimes Fundraising Committee
Marvin Kelinson - Co-Chair/March of Dimes Fundraising Committee
Bill Lohmeier - Board Member, March of Dimes and Milan Little League
Rod Hogren - Board Member, Rock Island Chapter/March of Dimes
Edwin F. McCarthy - Chairman, Knights of Columbus, 1961
Fred R. Vermeulen, Jr. - Co-chair, Knights of Columbus, 1961
Gussie Nell Davis - Director, Kilgore Rangerettes 1961
Lena Lohse - Rock Island Boat Club
Mrs. Harold Herbert - Milan Women's Club, 1961
Stan Stone - Milan Indian Summer Festival, 1961
Media Personalities
Jim Arpy - Features Writer and Author - Quad City Times
Don E. Chamberlain – Correspondent, Rock Island Argus
Jack Barlow, Rock Island - WQUA/1961
Mary Jo Eckland, Moline - Society writer, Moline Dispatch, 1960
Murray Hurt, Rock Island - Sports Editor, The Rock Island Argus, 1965
John O'Donnell, Davenport - Sports columnist, Quad City Times-Democrat
Bill Wundram, Davenport - Columnist, Quad City Times
Charles H. Sanders - Fine Arts Editor: The Rock Island Argus
Don Sharp, Rock Island - Sports Director, WHBF-TV
Pat Sundine - WOC-TV Davenport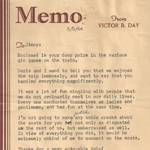 Customer Testimonial
Business Personalities
Ben and Marguerite Acri – The Acri Company
Charles J. Acri – The Acri Company
George A. Anderi, Oak Park, Ill. - Sales Executive
L.B. Arp, VP/General Manager, Bear Manufacturing Co.
Al and Milly Barnes – Town & Country, The Horseshoe (Yankee Clipper)
Buddy Bateman – Town & Country
Ollie Beerman – Milan auto dealer
Cecil C. Bickel – Blackhawk State Bank 1960-1963
John Bosso, Mama Bosso's Pizza
Grant W. Brissman – Brissman's Auto Supply 1960
Charles Carp – Cheerful Charlie's Furniture 1960s
Lee Cook, Ft. Lauderdale, Fla. - Bank Executive
Ellwood F. Curtis - President, Deere & Company 1965-1966
Nic Chirekos - The Plantation, Moline
Victor B. Day - Bear Manufacturing Company, Rock Island
Harley Dirck – Farmer's Automotive
Bob Eriksen - Bob Eriksen Chevrolet, Milan
Isador Finkelstein – Blackhawk State Bank
Henry I. Finkelstein – Blackhawk State Bank
Charles R. Flynn - Flynn Public Relations 1960s
Irv and Lucille French — El Rancho Villa Restaurant, Bettendorf
Dick Fruitiger (a man of many hats), Coal Valley
Stanley Goldman – Hyman's Furniture, Rock Island
James "Jake" Gottlieb - The Dunes Hotel, Las Vegas
Julius Gottlieb – Transportation/trucking, Quad Cities
Matthew W. Hart, Rock Island - Attorney at Law
Albert D. "Bert" Huesing - A.D. Huesing Corp., Rock Island
Conrad Hilton - Hilton Hotels
Kenneth Jones, Rock Island Chamber of Commerce
Sidney Katz – Belleville/Bank of Belleville
Robert Klockau - Illinois Casualty Insurance Co.
Hugo H. Lohse, Lohse Automotive Service, Rock Island
Edward Manhard, Rock Island Bridge & Iron Works, Rock Island
Tony Maniscalco – Quad Cities pizza pioneer
Orville G. McCullough – Blackhawk State Bank
Dan McGlynn – Belleville/Bank of Belleville
Roy S. McGovern – Rock Island/Blackhawk State Bank
Tom Miller - Ina Mae Miller - Miller Container Corp.
Charles T. Miller - Vice President/Secretary-Treasurer: Miller Container Corp.
Stephen C. Miller - Mary Miller, Rock Island - Attorney at Law
Bernard J. Moran - Illinois Casualty Insurance Co
Bill and Mary Lou Myers, The Country Cousin, Moline
Ray W. Osterman – Blackhawk State Bank
Ralph W. Palmer – Rock Island
Carl A. Ritchie – President, H.B. Wilkinson Title Company
Fred E. Rose – Belleville/Bank of Belleville
Robert G. Scott – Blackhawk State Bank
Robert L. Scott, City Attorney, Milan
Manny Soodhalter – Debs Drive In, Milan
Sylvester C. Stacey, Blackhawk State Bank
Stan and Mary Stone – The Milan Motel, Milan
Z.E. Taylor - J.J. Case
William "Bill" Wheelan – Wheelan Funeral Home (now Wheelan-Pressly)
Stewart Winstein, Attorney, Rock Island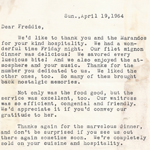 Customer Testimonial
Blackhawk State Bank – 1960 Board of Directors
Cecil C. Bickel
William R. Blaser
Grant W. Brissman
Francis J. Coyle
Paul A. Dugan
Isadore H. Finkelstein
Lyman H. Johnson
Robert A. Klockau
Oroville G. McCullough
Roy S. McGovern
Melvin McKay
Walter W. Moeller
Harold C. Nielsen
Ray W. Osterman/President
Ralph W. Palmer
Robert G. Scott
Sylvester C. Stacey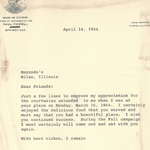 Customer Testimonial
1958 Post T. Travelers Protective Association
Bernard T. Olson, Rock Island – State Director
Dale D. Drake, Rock Island – Vice President
Ray L. Mills, Rock Island – Secretary/treasurer
R.M. Faul, Peoria, Ill. – State Secretary-treasurer
Perry M. Talbot, St. Louis, MO – Assistant National Secretary-treasurer
Elmer D. Boldt, Rock Island
Dennis K. Wilson, Rock Island
Byron A. Swedberg, Rock Island
Charles J. Dobbler, Rock Island
Dr. H.C. Nielsen, Rock Island
J. David Sherrad, Aledo
Clifford W. Hobart, Rock Island
Ray E. Barnhart, Rock Island
R.J. Hogren, Moline
Melvin C. Kappler, Moline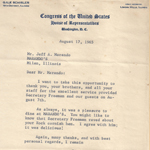 Customer Testimonial
Politics
Hon. William G. Stratton - Governor, State of Illinois (1953-1961)
Hon. Oroville L. Freeman - U.S. Secretary of Agriculture, 1965
Congressman Gale Schisler - U.S. Congress, 1965-1967
George R. Thuenen - Mayor, City of Bettendorf 1962-1968
Ray T. O'Brien - Mayor, City of Davenport 1961-1966
Warren Yerger - Mayor, City of Rock Island, 1957-1961
Morris "Morrie" Muhleman - Sheriff, Rock island County 1950-1954

Illinois State Senate 1955-1958
Mayor, City of Rock Island 1961-1965

Charles F. and Nancy Carpentier - Secretary of State, Illinois, 1960
Pete Pappas – Illinois State Rep., 1960s
Charles Percy – U.S. Senator (Ill)., 1967-1985
Lawrence L. Phares, Judge, Rock Island County
Paul Powell, Vienna, Ill. - Illinois State Rep., 1964
Tom Railsback, U.S. Congressman, Dist. 19 (Illinois), 1967-1983
Chester C. Thompson, Rock Island, Ill. – U.S. Congressman, 1933-1939
Wesley Greenwood, Milan, Ill. - Chief of Police, Milan
Harold Herbert, Milan, Ill. – Former Milan Mayor
Roy S. McGovern - Chair, Rock Island County Supervisors 1960s
Frank E. Cromptonis - Chair, Rock island County Supervisors 1960s
Herbert A. Dailey - Chair, Rock Island County Supervisors 1964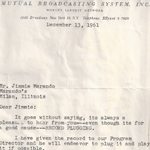 Customer Testimonial
Sports Personalities And Organizations
Gene Autry – California Angels 1964
Jack Buck, play-by-play announcer, St. Louis Cardinals 1959
Jack Brickhouse – play-by-play announcer, Chicago Cubs
Philip K. Wrigley – Chicago Cubs
Bobby Douglass – Chicago Bears 1970
Warren Giles (1955) – President, National League 1951-1969 -

President, Moline Baseball Club 1919

Dizzy Dean (1956) – St. Louis Cardinals 1930-1937

Chicago Cubs 1938-1941
St. Louis Browns 1947

Babe Ruth (1947/Fairview Inn) – Boston Red Sox 1914-1919

New York Yankees 1920-1934
Boston Braves 1935

Joe Garagiola – Sportscaster
Eddie Matthews – Milwaukee Braves
Gene Oliver, Milan – St. Louis Cardinals
Johnny Logan – Milwaukee Braves
Chuck Tanner – Baseball Manager
Bob Lemon – Baseball Player and Manager
Jessie Owens – Olympic Gold Medalist
Joe Gordon – Baseball player and manager (1959)
Doug Buffone – Chicago Bears, 1966-1979
Ronnie Bull – Chicago Bears
Minnesota Fats – Billiards Champion
Van Patrick – Sportscaster
Stan Hack – Chicago Cubs – St. Louis Cardinals
Ken Bowman, Milan – Green Bay Packers 1964-1973
Jerry and Judy Hillebrand, Davenport, Ia. – New York Giants 1963-1966
Booker Edgerson – Buffalo Bills 1962-1970
Joe Collier, – Coach, Buffalo Bills
Charley Brown – Chicago Bears 1968
Bob Uecker – St. Louis Cardinals 1964-1965
Rich Nye – Chicago Cubs
Ron Santo – Chicago Cubs
Charles Shriver – Chicago Cubs Public Relations
Dike Eddleman – Olympic Athlete
Jimmy Jamieson, Moline, Ill. – 1960 Tri-City High School Golf Champion
Milan Little League  1960 – 1972
Eugene McGonigle
Steve Schauenberg
Dave Anthony
Bud Crouch, Milan
Wayne Whitney, Milan
Jay Rankin, Milan
Junior Behrens, Milan
Allen Simmon, Milan
Mike Barkau
Tom Kelly
Billy Foster
Randy Hedar
Ed Hendley
Lee Kinnamon
Henry Volstedt
Wendell Morris
Ed Fyfe
Jim Guss
Kenny Handley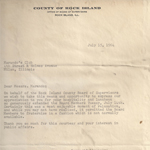 Customer Testimonial
Special Guests
Charlie Alolkoy, Davenport
Amos W. Anderson, Rock Island
Andy Anderson, Rock Island
Ted and Rosalie Arnold, Rock Island
Vicki Arnold, Bettendorf
Donald A. Baker, Colorado Springs, Colo.
Sean "The Rock" Bateman, Quad Cities
Duane "Bealio" Beale, Moline
Betty Bileddo, Quad Cities
Don Blacker, Milan
Jacki Rankin Blue, Austin, TX
Walter Boncek, St. Louis, MO
Konnie Boney, Quad Cities
Paul and Shirley Booker, Rock Island
Roy Booker, Rock Island
Richard Booker, Saymer, Wis.
D. Patric Burke, Rancho Cordova, Calif.
Kenny Bush (Kenny Bush Farms), Milan
Fr. John H. Callahan, Milan
Donald Cleary, Coal Valley
Doris Cleary, Coal Valley
Tom "The Coal Valley Kid" Cleary, Bettendorf, Ia.
Chick and Carol Cole, Milan
Jim and Marilyn (Cogley) Copeland, Jefferson, Ia
Kenneth Criswell, Rock Island
Sal Cefalu, Milwaukee, Wisc.
Bob and Betty Cook, The Riverboaters, Rock Island
Janie Cook, Rock Island
Mr. and Mrs. George Crompton, Rock Island
Angela Crompton, Rock Island (1968 Queen of the 12th annual Villa de Chantal father-daughter valentine banquet)
Paul Crupi, Las Vegas, Nev.
Joseph P. Delfino, Chicago, Ill.
Frank and Doris Dickey, East Moline
Paul and Delores Dugan, Milan
Dianne Dugan, Denver, Colo.
Denise Dugan (Babinski), St. Louis, MO
Danny Dugan, East Moline
Mary Seymour Dugan, Milan
Beuhla Elmore, Rock Island
Joseph F. Fackel, Moline
Jane Fielder, Davenport
Al Fiore, Las Vegas, Nev.
Judy Gabelhausen, Hamilton, Mt.
Leonard and Vicki Geifman, Bettendorf
William George, Chicago/South Side
Wes and Lucille Guldenzopf, Quad Cities
Lawrence Gustafson, Leavenworth, KS
Fred Haney, Davenport
Jerry and Donna Hansen, Rock Island
Joe and Lois Heinsen, Milan
Harold and Wanda Herbert, Milan
Joe and Sue Hernandez, Bettendorf, Ia.
Bill and Irene Hillmer, Moline
Kathleen Hillmer, Moline
Nancy Hillmer, Moline
Debra Hillmer, Moline
Susan Hillmer,Moline
Bill and Irene Hines, Quad Cities
Dawn Hixson, Quad Cities
Paul J. Horick, Rock Island
Larry Huntley, Quad Cities
George W. Huntoon Sr., Quad Cities
Virginia R. Huntoon, Quad Cities
George F. Huntoon, Quad Cities
Barbara F. Huntoon (DeKeyrel), Quad Cities
Sandee M. Huntoon (Hennessey), Quad Cities
George Johnson, Rock Island
Ellis Kell, Davenport
Don Kelley, Rock Island
Otto Kerner, Chicago, Ill
Ed Kiely, Quad Cities
Robert Klockau, Quad Cities
Ruby Klockau, Quad Cities
Dave Klockau, Quad Cities
Mike Krowitz, Allentown, PA
Francis LaCross, Wisconsin Rapids, Wisc.
Jeanne Lange, Quad Cities
Joe Lauber, Davenport, Ia.
Don Lee, Aledo
Kenny Liggett, Aledo
Stanley J. Lipczynski, Rock Island
Dr. Harold T. Little, Aledo
Hugo H. Lohse, Rock Island
Joe Lombardo, Milwaukee, Wisc.
Susan Stone Loveless, Milan
Bob Marks, Rock Island
Phyllis and Tony Maniscalco, Rock Island
Janice (Scott) McCarter, Quad Cities
June McDermott
Louis Midlaski, Davenport
Connie Mohr-Wright, Quad Cities
Jeffrey Morad, Coal Valley
Bill Molder, Anton, Texas
Jack Morgan, Quad Cities
Patty Morris, Quad Cities
George and Elaine Mortell, Quad Cities
Mary Mortell, Quad Cities
Jerry and Jan Mosher, Rock Island
Phil Myers, Moline
Joseph Navarro, Ohawa, Ill.
Dale and Martha Nelson, Los Angeles, CA
I.M. Nickel, Chicago, Ill.
Keel Nienaber, Princeton, Ill.
Robert E. Normoyle, Moline
Don L.R. Olsen, Quad Cities
Nina Parks
Peggy Pedone
Robert and Edna Plasschaert, Milan
Robert (Bob) Plasschaert, Milan
Ann (Plasschaert) Saunders, Milan
Roy Plasschaert, Rock Island
Ron Plasschaert, Jonesboro, Tenn.
C.A. Pepper, Anahauac, Texas
Marsha Pruett, Quad Cities
Robert Reagan, Highland Springs
Paul E. Rink, Rock Island
James Russo, Brooklyn, NY
Marcella Y. Salvage, Texas
Albert A. Sanchez, Bettendorf
Dale Sanderfer, Quad Cities
Fred Schmidt, Crown Point, Indiana
Ralph and Valda Scott, Quad Cities
Robert L. and Barbara Scott, Rock Island
Travis Semper, Nordheim, Texas
Ardith Anne Simpkins, Meridian, ID
Judy Simpson
David and Sandra Smythe, Waco, Texas
Bo Jeffrey Spates, Quad Cities
June Spates, Quad Cities
Sandra Spates, Quad Cities
Timothy Spates, Quad Cities
Monte and Clara Steger, The Riverboaters, Rock Island
Diane Swanson, Quad Cities
James Taylor, Ridgeley, WV
Mark Trenkenschuh, Quad Cities
Gus and Ginny Tripilas, The Riverboaters, Rock Island
Edward "Eddie" Tschappat, Rock Island
Lucille (Hughes) Tschappat, Rock Island
Larry Tschappat, Rock Island
Thomas Terrill, Milan
Rebecca Thomas, Cedar Rapids, Ia.
Tony Thorpe, Quad Cities
Ralph Torbert, Brideltown, PA
Steve Toth, Canonsburg, PA.
Wagner and Wilma Townley, Taylor Ridge, Ill.
Helga Vinson, Quad Cities
Carol Marie Vogel
Chris Walsh, Meridian, ID
Keith Walsh, Boise, ID
Lorn and Pat Warner, Geneseo
Tanner Warner, Geneseo, Ill.
Vincent Watson, Rancho Cordova, Calif.
Francis (Tiger) Weaver, Rock Island
T.J. Weaver, Coal Valley
Jack White, Denver, Colo.
Jack Wilson, Moline
Patrick Boyd Wilson, Milan
Delores Wynn, Milan (Milan Women's Club)
John Zsolczal, Lapeer, Mich.
Special Events
200th Port Company, 1st Special Engineers Brigade (1955 Reunion)
Hollywood
Rory Calhoun, Los Angeles, CA Actor
Robert Cummings, Hollywood, CA Actor
Jimmy Dean, Olton, Tex. Country music singer, Actor
Frank (The Riddler) Gorshin, Pittsburgh, PA, Actor
Clu Gulager, Holdenville, OK Actor
Robert Young, Chicago, Ill. Actor