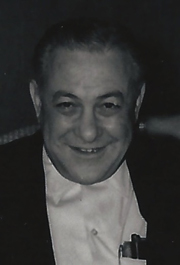 Exquisite!
This one word captured the persona of Anthony "Jeff" Marando, who, along with his brother Jimmie helped build Marando's into one of the Quad Cities' finest night clubs. He often responded in a very jovial manner with the aforementioned single-word metaphor to anyone and everyone who asked how he was doing. Newspaper columnists often referred to him as "Mr. Milan Town," or the "Toots Shor of the Quad Cities."
But it almost didn't happen that way.
Born on July 7, 1911, Jeff toyed with the idea of one day becoming a high school history teacher. He spent two years at Southern Illinois University, then worked with his brother, Jim, at Mrs. Dunn's Tea Room (which later became Fairview Inn, then Marando's) in Milan until enlisting in the U.S. Army in 1942.  During a three-year hitch in the Army, Jeff served as a mess sergeant (which greatly influenced his career as a chef). Following his discharge in 1945, he worked at the Sportsman's Grill in Davenport.
Jeff returned to his old haunt where he honed his culinary skills. Shortly thereafter, he began laying the groundwork for the eventual purchase of the Fairview and soon-to-be Marando's.
Later that year, he married Belle Robble, and for years the couple resided on W. 12th Avenue in Milan.
Belle was an outstanding cook in her own right. In fact, three of her recipes were published in an early 1960s cookbook written by June Crosby, wife of the great bandleader Bob Crosby. For several years thereafter, Belle's Walking Party Ribs were an unlisted special request item at the nightclub, prepared only by longtime Marando's chef, Alva Ybara.
It was Jim Arpy of the Quad-City Times who dubbed Jeff the Toots Shor of the Quad Cities, and with good reason. While Jimmie was known as the suave frontman, Jeff was in many ways more gregarious. He and Belle would often host massive barbecues at their Milan home, including as their guests the Milan Chamber of Commerce, Mill Creek Country Club (now Pinnacle Country Club) and various community groups.
Jeff was a man of many talents. While he mostly worked in the kitchen, his passion was actually songwriting. Often, while Clyde McCoy would rehearse his trademark sugar blues prior to an evening performance, Jeff would change the lyrics to the song with something humorous and offbeat, sending McCoy into hysterics.
But in 1960, Jeff gained national attention when he wrote "Santa Claus, Santa Claus," a Christmas song that was recorded by legendary pianist Roger Williams and rolled out with a 32-voice children's choir.
As the story goes, Jeff fashioned the hymn back in the 1920s during elementary school, over the years added lyrics, and decades later decided to record it after entertaining kids while dressed up as old Saint Nick himself.
"For several years I played Santa for the kids in Milan and all the time I kept adding words to the song," he was quoted as saying in Milan Man's Christmas Song May Be A Big Hit, an Arpy-penned 1960 story in the Quad-City Times. "Then, Marge Meinert (Davenport recording star) heard it and liked it. I hummed it for her and she put it down on paper. She suggested I copyright it and I did."
Florida musician Don Baker of the Don Baker Orchestra took notice, and convinced Williams over dinner one night to record the song. According to Arpy's article, Williams was so taken with the piece that he canceled a concert tour just to rehearse for the recording session. While Marando turned down a $10,000 offer from Baker for outright rights to the song, he did agree to share any ensuing royalties 50-50 with the bandleader, according to an Aug 25, 1960 agreement between the two. It is unknown how well the song did, but a first-print of 200,000 sold out in weeks.
When the City of Rock Island threatened to annex Milan, Jeff would have none of it. He co-wrote and helped broadcast a breezy little number titled I Love Milan in the Springtime, which was picked up by a local radio station. The annexation effort failed.
Golf was Jeff's game of choice. His love of the links and sponsorship of tournament and community events prompted Pinnacle Country Club to designate a series of events in his name. He played in the Quad-City Open as a pro-am, and today, the Marando Cup is played at the popular local golf club. Shortly after his death in 1987, Pinnacle renamed the 4th hole in Jeff's honor.
Jeff's culinary exploits were legendary. His specialties were crepes, barbecued chicken and ribs, and a home-made spaghetti sauce that was simply to die for. Plus, the man had a way with vegetables, including tomatoes, kohlrabi and onions which were home-grown in his backyard garden. In the late 1960s, Jeff's annual summer community barbecue in the Marando's parking lot was a must-attend daylong event, attracting hundreds.
After Jimmie passed in 1966, Jeff took on the responsibility of bringing in name entertainment. When Johnny Ukulele and his Hawaiian Review came to town in the summer of 1969, Jeff had several members of the Review stay at his place during a three-day engagement. Each morning he was up at 7, cooking for them all, preparing crepes and serving Johnny and his group outside on white linen tablecloths. Not getting home until 1 a.m. the previous evening didn't phase him in the least. Jeff looked sharp and crisp each morning.
In 1983, he was named Man of the Year by the Milan Chamber of Commerce. Jeff was a member of the American Legion and Veterans of War, Moline Elks Club, Travelers Protective Association, and Pinnacle Country Club. In later years, Jeff was often seen hanging out at Pinnacle  with old friends, or the Town and Country, near where Zayre's Department Store once resided in Rock Island.
On May 21, 1987, Jeff Marando died of cancer two months short of his 76th birthday. A few weeks later, Bill Wundram of the Quad City Times penned a column aptly titled Exquisite, a word which is proudly emblazoned on Jeff's tombstone at Calvary Cemetery, Rock Island. Belle, to whom he was married for 35 years, preceded him in death on March 27, 1980.