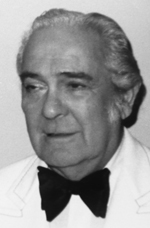 Ernest G. "Ernie" Marando, the last of the three brothers who owned and operated Marando's, was an affable man who parlayed street smarts and a passion for cards and other table games into a notable gaming career.
Long before college math jocks and software developers came to dominate black jack and poker, Ernie was there first. Born on April 24, 1916, he earned a teaching credential at a Freeman, Ill., teachers college. Ernie then enlisted in the U.S. Army in 1941, where he learned to play poker and blackjack. Ernie would recall years later that it wasn't uncommon to double his Army pay of $85 a month playing cards.
During the late 1940s, a trip to Europe and Italy further honed his gaming skills. He became proficient in roulette, quickly picking up betting nuances and how to play the numbers – skills that would become important later when he joined Marando's.
To Ernie, one's appearance was important. He was unobtrusively dapper, often wearing finely-tailored silk shirts, shoes that were always polished, and not a hair out of place. Appearing as though he walked right off the cover of GQ, Ernie's smile could light up a room. This guy even looked good in a leisure suit, which he often wore during the 1970s.
Never one to sweat the small stuff, Ernie approached life on its own terms and never took himself too seriously. That was part of his charm. He was a total pro.
For a time during the early 1950s, Ernie managed the Red Carpet Club in Davenport before joining brothers Jim and Jeff at Marando's to oversee the club's exclusive gambling operation as pit boss and crupier.
While playing blackjack, Ernie reveled at the cat-and-mouse game within the game. He took beating the house to a new level. During the summer of 1967 he revealed that winning a dozen consecutive hands at an unnamed Las Vegas casino several years earlier drew so much attention that the pit boss not only ordered him off the table, but security escorted him out of the building. "But I got to keep the cash," he said with a wink and a big grin, of course never revealing how much he had won. Counting cards was not illegal, but casinos do have the discretion to ask players to leave. Ernie took such occurrences as a compliment.
Following a rehearsal one day at Marando's in 1966, Ernie taught Guy Lombardo how to play blackjack. As Ernie recalled years later, the bandleader was so taken that he returned unannounced for a full weekend of education under Ernie's tutelage. "He didn't want anyone to know, so he stayed at my house," Ernie said. "We played for hours, well into the night, just he and I."
When famed pianist Liberace performed a one-night only show at Marando's, after the performance Ernie quietly took the entertainer into the gaming room for an impromptu personal meet-and-greet – an event that left an indelible mark on the restaurateur.
At one time, Ernie was quite a cook. He would often prepare a concoction of vegetables and pasta that had the fragrance and taste of Old Italy. Ernie spent his later years traveling with friends and enjoying life with his longtime companion , Judy McKinley of Milan, and was frequently seen playing golf and enjoying Quad City night life.
Ernie Marando passed away at age 83 on Nov. 25, 1998 at Trinity Medical Center in Rock Island. He is buried in the Marando family plot at San Carlo Cemetery in Herrin, Ill. Ernie was a member of St. Ambrose Catholic Church and Pinnacle Country Club in Milan, and, TPA Post QC.