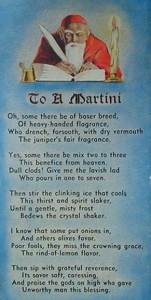 Jimmie Marando's drink of choice was the Martini, an extra dry one, in fact. The sophisticated cocktail's history dates back to the 13th Century, has spawned dozens of poems, enjoyed by statesmen around the world and lionized in movies and television from James Bond to Mad Men.
While it was believed that Jimmie wrote the ode, it is actually the work of writer Newman Levy, and was published in the Dec. 30, 1950 issue of the New Yorker magazine.
Sometime during the early 1950s, Jimmie posted To A Martini in the Milan Room. It was neatly positioned in a glass frame with an overhead light that could be seen from across the room.
It goes like this:
Oh, some there be of baser breed
Of heavy-handed flagrance.
Who drench, forsooth, with dry vermouth;
The juniper's fair fragrance.
Yes, some there be mix two to three
This benefice from heaven.
Dull clods! Give me the lavish lad
Who pours in one to seven.
Then stir the clinking ice that cools
This thirst and spirit slaker,
Until a gentle, misty frost
Bedews the crystal shaker.
I know that some put onions in,
And others olives favor.
Poor fools, they miss the crowning grace,
The rind-of-lemon flavor.
Then sip with grateful reverence,
Its savor soft, caressing,
And praise the gods on high who gave
Unworthy man this blessing.
© Norman Levy, New Yorker Magazine, Dec. 30, 1950