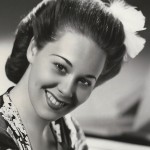 "The Queen of the Ivories"
Myrna "Gail" Marando was born Myrna Mansfield on Feb. 28, 1922, in Taylorville, Illinois, one of nine children to George and Stella Mansfield. At an early age, she wanted nothing more than to become a premier piano player.
At age 11, she garnered rave reviews by a local radio station for her honky-tonk and jazz variations.  While still in high school, she comprised one-third of The Mansfield Trio, a family singing group.
By the time she graduated high school, Myrna knew how to play more than 500 songs – having developed an uncanny talent for hearing a song a few times and being able to play it on the piano without the benefit of sheet music.
At 18 and fresh out of high school, she went on the road and played clubs and public houses from as far south as Biloxi, Mississippi, to Norfolk, Neb., in the Midwest and as far north as Albany, New York, often earning upward of $300 a week – outstanding pay in 1940, especially for a teenager.
Later that year, she caught the attention of movie producer Henry King, who called her in to read for a small part in an upcoming film. While waiting to audition, she vividly remembered meeting legendary actress Claudette Colbert. "Very elegant woman, and I imagined at the time what it could be like working with her. Who wouldn't?"
After Colbert left, Myrna went in and read a few lines in front of King and actor Glenn Ford, which completely caught the young pianist off guard. Recalled Myrna years later: "I was absolutely star-struck. Ford was a big star back then, very good-looking, — and very, very charming." Myrna didn't get the part. It remained unknown what role King had in mind for her. But the film was Remember The Day, a charming romantic flick set in the backdrop of a small Midwestern town. Colbert eventually landed the lead female role of Nora Trinell.
In 1943, Myrna married future club owner Jimmie Marando, who at the time was on leave while serving in the U.S. Army.  She was a featured entertainer during the early days of The Tropics and Fairview Inn in the late 1940s, and later Marando's. For more than 10 years, she played piano six nights a week, and by day hosted a wide range of events at the club from birthday parties to women's club luncheons.
In those days, the Incomparable Versatiles and Esquire Trio were a regular feature at The Fairview Inn, along with Myrna at the new "chickering" piano and Mildred Garns at the Hammond Electric Organ.
From 1962-1982, Myrna made a name for herself as one of the Sacramento area's premier nightclub pianists. Known by her friends as "Gail," she was a regular entertainer at various Capitol-area clubs and piano bars, including Stroh's Neptune Table, the El Mirador Hotel, Cordova Lodge, Trinos, The Quarterdeck, and the swanky, historic Auburn Hotel. But it was a five-year run (1977-1982) at a Rancho Cordova, Calif. minstrel called the Sheepherder's Inn where she hit her stride.
During her tenure at "The Sheep" (as regulars called it) she would often play virtually non-stop, harmonizing a repertory ranging from Bad, Bad Leroy Brown to several Sinatra-era hits including My Way, and Moon River – and everything in between. She made friends with everyone.
Well-known pianist Ken Mizak, who has played several clubs over the past 40 years, remembers Myrna as feisty and fearsomely talented. "A fine pianist, probably the best among us older veterans. She asked me to sit in one night at the 400 Club, the piano bar is full, and then when I started playing, they all got up and left," he said with a laugh. "Never saw her play with (sheet) music. I could never do that."
"Gail was not only a great friend, but one of the most compassionate people I have ever known," said longtime friend Joan Banner of Elk Grove, Calif. "Music and her family were her life. There is nobody like her."
The late Chet Holt, who at the time owned and operated the Sheepherder's and the Auburn Hotel, nicknamed her The Queen of the Ivories.
Columnists Mike Dante of the Sacramento Union and Gene "Gino" Winchester, who penned the Stepping Out with Gino newspaper column, wrote about her often.
She went into semi-retirement upon moving back to the Quad Cities in 1982, played piano on a few of the local gambling boats and performed a wedding or two here and there. Myrna died of cancer on Aug. 22, 1998 at the age of 76. At the time of her death, she was married to Wendell Ray or Rock Island, Ill., who ironically worked 20 years earlier as one of Marando's premier bartenders.