Jack Wilson has uncovered a cool piece of local history with a Marando's tie-in – a 1950s-era bowling pin signed by pro bowling legend Basil "Buzz" Fazio.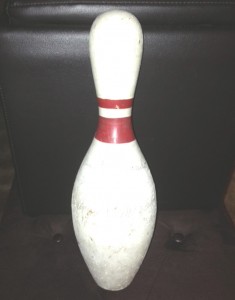 The pin also features signatures of Jimmie and Jeff Marando. "When my dad passed away, I found the bowling pin under the work bench at his house in Milan. I have no idea where the pin came from," says Jack, who worked as a busboy at Marando's in the 1950s.
Fazio reportedly came to town at least twice in the 1950s and 1960s, to compete in the Quad City Open at Suburban Lanes in Davenport. He may have stopped into Marando's for an impromptu meet-and-greet.
Fazio was among several early American bowling stars that helped put professional bowling on the map, in particular on television with TV shows like Bowling for Dollars, All-Star Bowling and Make That Spare.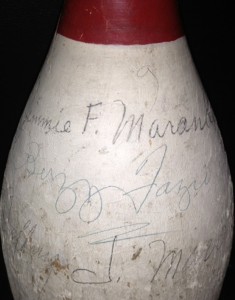 Jack later did work with Jesse Wilson & James Wilson General Contractors. The firm worked on several remodeling and expansion projects at Marando's during the 1950s.