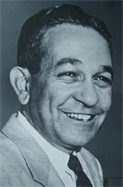 James S. Marando had a vision to one day open a night club that provided not only the best in customer service, but top-quality food and entertainment.
Mr. Marando was born on March 25, 1914, in Bush, Illinois, to Ferdinando (1871-1956) and Sarafina Marabito Marando (1878-1932), who immigrated to the United States from Italy. Jimmie had six brothers;  Anthony (1911-1987), Ernest (1916-1998), Joseph (1902-1983), Pete (1909-1967), Brunie (1912-1983), and Frank (1905-1934).
His education in the restaurant business began fast. In the early 1930s, Marando  worked as a bartender and an innkeeper in various joints on Chicago's south side, learning the business during a post-depression era where speakeasies and eateries were commonplace.
In 1936, he moved to the Quad Cities and spent at least two years working at Mrs. Dunn's Tea Room in Milan (which later became the Fairview Inn, then Marando's) until joining the U.S. Army in January of 1943. While on leave in August of that year, Jimmie, 29, married Myrna Mansfield, a 21-year old professional pianist during a private ceremony in the Chicago apartment of James "Jake" Gottlieb. Jimmie and Mr. Gottlieb had become friends during his early years in the bar and restaurant business. Gottlieb at the time owned Western Transportation in Chicago and would later co-own The Dunes Hotel in Las Vegas.
It was during two Army tours to Hawaii and Okinawa, Japan, that Jimmie gathered ideas and the inspiration to one day conceive a restaurant with the look-and-feel of the South Pacific.
Almost immediately upon his discharge in 1946, he began scouring the classifieds for an available liquor license (during those days, only a limited number were issued by local authorities, and what few that were available often commanded up to $3,000 each).
Later that same year, Marando secured the much-needed liquor license and, with the help of a $5,000 loan from his brother Joe, opened the Tropics in Silvis, a chicken and steak place. Myrna performed six nights a week at the piano bar, dazzling patrons with a full repertory that also included boogie-woogie with a hint of jump blues.
The future Marando's began to take shape. Jimmie befriended Charles ("Charlie") Spates of Davenport, who at the time was working at the Fairview Inn in Milan, and brought him on as bookkeeper. It was also during this time that Jimmie's brother, Anthony (Jeff) Marando tenured as head chef and manager at the Fairview, and would later convince ownership to sell the place to the brothers. In 1948, Jim and Jeff purchased the Fairview and completely remodeled the inside and outside of the building.
Jimmie repaid the loan from his brother, and, during the next few years, the Fairview Inn attracted regional entertainment. But Jimmie was well ahead of his time in recognizing the value of outstanding customer service. "Top quality is the order in my business, regardless of cost. That quality is the patron's invitation to return again and again," Jimmie was quoted as saying in a Rock Island Argus undated news account. Words that are as important in business today as they were 60 years ago.
In 1950, the Fairview Inn officially became Marando's. In 1954, Spates was named General Manager. Jeff ran the kitchen and Ernie, the youngest of the Marando brothers, joined the team a few years later as casino manager. Jimmie was the frontman, observed by Quad City Times-Democrat (as it was called then) columnist Bill Wundram: Jimmy Marando was a smooth fellow, with slicked-back hair and dark blue double-breasted suits. He glided around his place in spit-shined shoes, often with a martini in hand.
He loved sports, in particular the Chicago Cubs and Iowa Hawkeyes. During the day, before the roadies set up equipment for the evening's music, before the crowds, before the flow of martinis, Jimmie would often be seen sitting at the bar just off the main dining room listening on his General Electric radio to Jack Brickhouse and Lou Boudreau calling the action from Wrigley Field.
Marando's continued to bring in big-name bands, regional and national entertainers. Jimmie's next project would quite possibly have led to an early change in the Quad Cities hospitality landscape. In 1966, he envisioned the Marando Plaza Hotel, a 160-room hotel and entertainment center. Modern Woodmen of America had reportedly agreed to loan Jimmie $1.8 million to fund the project.
The hotel would not become a reality, however, for on Sept. 22, 1966, Jimmie Marando succumbed after a lengthy battle with throat and lung cancer at age 52.
Jimmie is buried in Herrin, Ill. He was a longtime member of the St. Ambrose Catholic Church in Milan, Ill., where the Rev. John Callahan officiated his funeral. His son James, along with good friends Paul Dugan, Kenneth Criswell, Ben Evans, Frank Stulir, George Huntoon, and Thomas Miller were pallbearers.
At the time of his death, Jimmie  had one daughter and two sons  – Ardith Ann Simpkins of Meridian, Idaho; James Marando, of Orion, and, Michael Marando, of Sacramento, Calif.