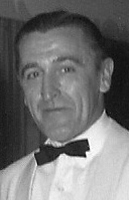 Charlie Spates
The Marando's story would not be complete without a man who was as solid a General Manager as they come. That man was Charles W. "Charlie" Spates, who brought a unique, can-do approach to overseeing the day-to-day operations of the restaurant.
Soon after being discharged from the U.S. Army in the mid-1940s, Spates landed at the Fairview Inn in Milan, where he toiled in several roles. It wasn't long before he and Jimmie Marando met, and the two took an instant liking to each other.  When the Marando brothers bought the Fairview Inn, Spates' became Bookkeeper and Business Manager.
"He was Dad's right-hand man for years," Jim Marando, Jr. recalls of Charlie. "He was a detail guy, and made certain that everything went perfectly. That's what the customers expected, and Charlie was top-shelf all the way."
Charlie was often seen at Jimmie's side, directing traffic and making sure everything went smoothly. Always unobtrusive and never one to complain, Charlie had an uncanny knack of being at the right place at the right time. If a patron needed to be picked up on a moment's notice at the airport, Charlie dropped what he was doing to pick them up. If the kitchen ran out of a particular item, Charlie was at the store making the necessary purchase. And if an entertainer or headliner canceled at the last moment, it was Charlie who tenaciously made calls to agents all over the country to fill the void. He didn't miss a beat. His work ethic was second to none.
Spates loved to fish and play golf. Often, he and Jimmie would discuss various aspects of the business and talk about which entertainers would give patrons at Marando's the best show – in between reeling in a channel Catfish or sizing up a short putt on the 16th hole.
Spates became General Manager at Marando's in 1954, and often worked 70-hour weeks.  When Jimmie Marando died in 1966, he bequeathed to Charlie an undisclosed ownership share of Marando's. Spates later left the club and opened The Tropics in nearby Andalusia, named after the original Tropics, which Jimmie Sr. owned and managed in the late 1940s.
From 1984 to shortly before his death on May 21, 1992 at age 78, Spates was General Manager of Pinnacle Country Club in Milan. He is survived by his wife of 32 years, June (Davis) Spates; daughters, Sandra (Mrs. Richard) Burcume, Reynolds; and Marsha (Mrs. Stephen) Pruett; sons, Bo Jeffrey, Bettendorf; and Timothy James, Rock Island; seven grandchildren; a great-granddaughter; and a sister, Mary Rowland, Naperville.
Charlie belonged to American Legion Post 569, Veterans of Foreign Wars Post 4177 (Milan), the Travelers Protective Association and Pinnacle Country Club. Charlie Spates is buried in the National Cemetery, Rock Island Arsenal.