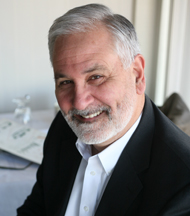 Michael J. Marando
– Site author, writer and creative director
Michael (Jeffrey) Marando is a native of Milan, Ill., and is the creator of the Marando's Restaurant website. He has spent his entire life as a writer in one form or another – first writing sports in the 1970s in his adopted hometown of Rancho Cordova, Calif.
The stories contained on the Marando's website is Mike's work, the result of countless hours of research, interviews, personal family experiences and remembrances, complemented by photographs and visuals from several family scrapbooks.
As a youth, he experienced "two childhoods," spending several summers in the Quad Cities with his father, James S. Marando, brother James Jr., and uncles, Jeff and Ernie Marando, in addition to living on the West Coast. During the 1960s, he hung out at Marando's and was often seen most summer evenings with chalk in hand updating the major-league baseball scoreboard in the restaurant's Bow & Arrow room. He later worked there as a busboy.
Mike's interest in newspapers began in 1965 when, at the age of nine, he became one of the youngest paper delivery boys in Sacramento Union history, earning the then-princely sum of $30 a month (providing that everyone paid the $1.50 monthly subscription).
At 16, he became a high school correspondent for The Union, a move that years later would lead to a sports writing gig with the now-defunct Sacramento daily.
Mike has been a media spokesperson, marketing and public affairs specialist for five California state departments and agencies over the past 30 years, the most recent of which was with the California Department of Motor Vehicles where he served as Deputy Director of Public Affairs through the end of 2012.
Today, Mike is media and marketing specialist for Randle Communications and emcees many events for private charities and non-profits in the greater Sacramento area. Since 2015, he has been the public address announcer for the Sacramento River Cats, the AAA affiliate of the San Francisco Giants.
Mike enjoys music, pro baseball, working with people and returns to the Quad Cities regularly to visit family and friends. He and his wife Donna currently reside in the Sacramento area.
Serritella's Italian Restaurant , a staple of fine dining since 1965 in Carmichael, Calif., provided the backdrop for a photo set expertly captured by photographer Dave Foote of TotallyOptimized.com. The restaurant features an inviting dining room with fine white linen tablecloths, complimented by a combination of modern and 1960s accents that is in many ways a fond reminder of the Marando's era. A special thanks to our gracious hosts, owners Robert Contreras and Bonnie Prophet! Click on the images below to view full size!